[Italian textile machinery: orders fell in the second quarter of 2019]
Release date:[2019/9/19]
A total of reading[335]time
Recently, the Italian Textile Machinery Manufacturers Association (ACIMIT) published the textile machinery order index for April-June 2019. It is reported that the index has dropped by 19% over the same period of the previous year. The order index is 84 points (base 2015 = 100).
Among them, Italian textile machinery manufacturers' orders in foreign markets decreased by 21%, and the absolute index value was 78.6. In the Italian domestic market, the order index remained unchanged compared to the same period in 2018. The absolute index value is 140.1.
ACIMIT Chairman Alessandro Zucchi commented: "The order index provided by the economic sector reflects the problems encountered by entrepreneurs in the market in the first half of this year. The uncertainty caused by geopolitical tensions has further impacted the textile machinery industry. Entrepreneurs They are waiting to see the International Textile Machinery Exhibition (ITMA) held in Barcelona in June this year."
At the same time, Zucchi also stated that "ITMA is held every four years and is the main platform for the textile machinery industry to showcase the most innovative textile technology solutions. Many of our customers have delayed their investment plans and look forward to the show. New innovations." Italian textile machine manufacturers recorded overall visitor volume and contacts during the event to measure the success of the event and provide positive information for the year-end growth forecast for foreign markets.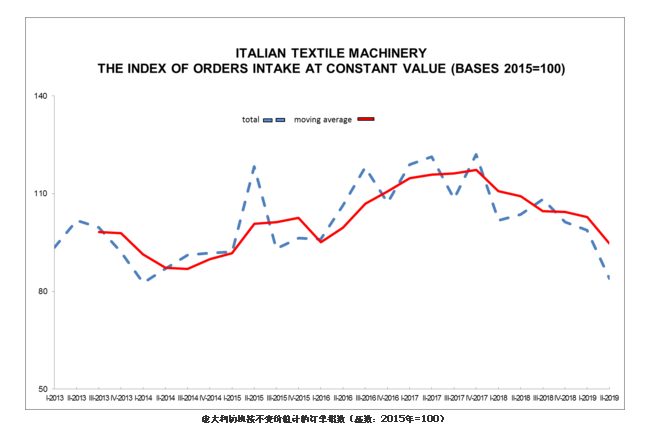 Jiangxi Donghua Machinery Co., Ltd. specializes in the production of polypropylene spinning machine, polypropylene strong spinning equipment, polypropylene high-strength spinning equipment, polypropylene spinning machine, polyester spinning machine, aramid 1414 fiber spinning equipment, DHP419 series high-strength polypropylene Spinning drafting machine, polypropylene spinning machine, DHP418 series polypropylene spinning drafting machine, DHkv1235-12 type polyester spinning machine, DHPE high-strength high-modulus polyethylene fiber spinning equipment, DHTA type aramid fiber 1414 fiber spinning equipment, HDZF3 High-vacuum dynamic drying-solid-phase viscosifying machine, polypropylene spinning machine.